C&R Masterpieces
This division is specialised in finding coloured and rare high jewellery gemstones,
with the objective to to satisfy the most sophisticated desires of the VIP customer's clients.
The C&R Gemological Support
Provides a technical service of internal consulting. A team of four gemologists efficiently insures a rapid and authoritative answer to C&R customers.

MORE
Machining, cutting and modeling
In our two Italian factories, the Made in Italy artisanal production guarantees a high level of product customization. C&R Master Craftsmen study with the technical division the customer's drawings to create a Masterpiece.
MORE
Our services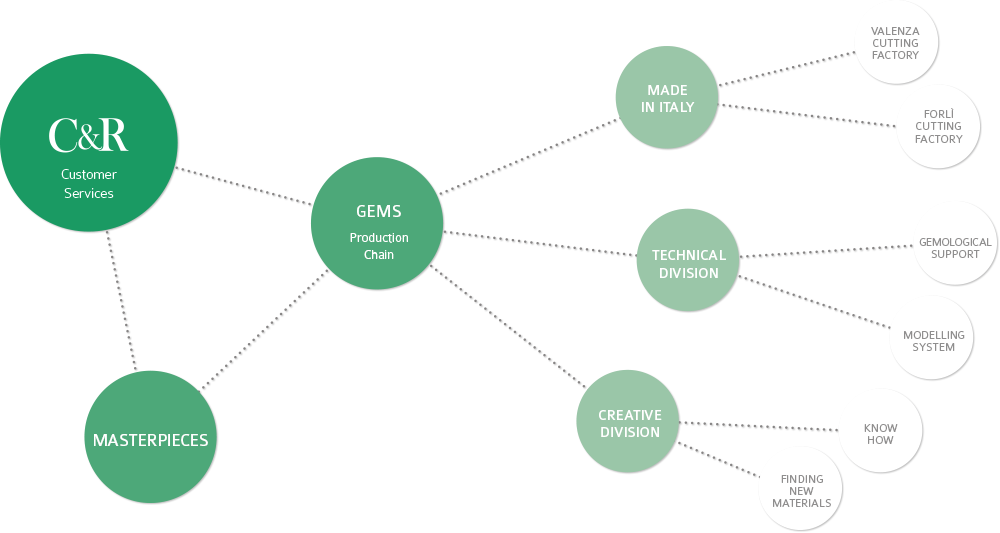 THE SUSTANAIBLE SUPPLY CHIAN, A GOAL CLOSER
About us

The winning strategy is the dynamism
Through teamwork custom C & R serves different customers with needs that vary depending on the area of membership.

Constant evolution
LThe C&R is a pioneer in the proposal to the customer
and believe that product innovation is a critical success factor.

Quality craftsmanship
For C&R "Italian Style" means first of all to find the best cutters and to subject the products to a close check.